Industrial Elites Gathering to Make Meticulous Preparation for CRECC Haikou Summit
Presidium (Delegates) of Organizing Committee & Special Advisors Seminar Held in Beijing
  On June 16, 2017, Summer President Working Meeting 2017 & Fellowship Banquet by Hotel Investors Association of CRECC was held in Waldorf Astoria Beijing , with a number of elites in hotel industry involved in, including Cheng Wendong , Former Deputy Director of the National Tourism Administration, Fu Longcheng, Vice President of China General Chamber of Commerce, Zhao Zhengting, Secretary-General of CRECC etc., to discuss issues of CRECC Haikou Summit & 2017 Asia-pacific Hotels Cooperation Forum to be held on August 16-18 this year.

Core Events
1. Opening Ceremony & the Summit Forum
2. "Belt and Road" Welcome Banquet
3. 2017 Summer President Working Meeting of Guangzhou Real Estate Trade Association& Guangzhou Real Estate Institute
4. Transition Assembly of Hotel Investors Association of CRECC
5. Inauguration of the 3rd Council of Hotel Investors Association of CRECC & President Family Banquet
6. Opening Ceremony of Supply-side Industr y Chain Alliance of China Real Estate and Hotel Investors
7. Annual Meeting of Asia-Pacific Hotel Association, Hainan Branch
8. The 5th China Hotel Industry TopPioneer Awards Ceremony
9. Business Opportunity Connecting Meeting
10. 2017 Supply-side Industry Chain Fair of China Real Estate & Hotel Investors("CRECC Hotel Industry Chain Fair")
11. 2017 China Real Estate & Hotel Design Forum
12. CCTV -The Greatest Chefs, Encountering Hainan Final & Award Ceremony
13. Road Show of Government, Investment Agencies and Corporate Projects
14. Owners' Salon for Investors of China Real Estate, Tourism & Hotel Industry
15. CRECC Golf Club World Tour Invitational Tournament (Haikou, Preliminary & Final)
16. Vi sit , Cooperation &E xchanges of Proposed-Investment-Invitation Project(Tourism Real Estate & Hotel Complex) in Hainan Proince
17. Closing Ceremony Luncheon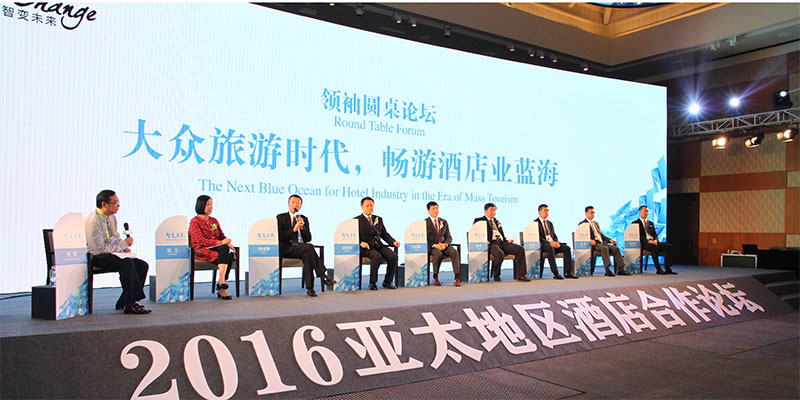 Participants
 The Summit expects an attendance of 3,000, of which 500 are expected at the Transition Assembly and the Summit Forum, 2,500 target clients and associated clients at the Opening Ceremony. Attendees are predominantly: executives, managers and presidents of domestic top 100 real estate firms, hotel firms and catering firms, of iconic Asia-Pacific hotel management firms and of certain Fortune 500 firms; key figures of United Nations World Tourism Organization, Asia-Pacific Hotel Association and of governments locally and stately; investment firms, banks and agencies involved in real estate and hospitality industry; domestic and foreign media.